Alco MRS-1 2089
---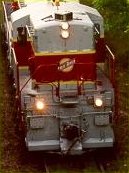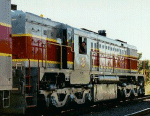 In the beginning of 1997, unit B-2089 was transferred to the White River Scenic Railroad Inc., which operates tourist trains along the White River in Northcentral Arkansas over the former Missouri Pacific Railroad Lines.
The locomotive was purchased from the Cotton belt Rail Historical Society in Pine Bluff, Arkansas. They had acquired it from the Red River Army depot in Texarkana, Texas. The unit was brought to the White River Scenic Railroad after 25 years of storage in California. It was built for the U.S. Military as a war engine but never was used for that purpose. Like most MRS1s, it was kept in storage and never sent overseas. When it was bought there was only 4,000 service hours on the meter.

See also http://alcoworld.railfan.net/wrsr.htm.
---